Store Frequently Asked Questions
Welcome to the Product Selector FAQs
Below we have listed some of the most common Frequently Asked Questions from our customers and site users when using the Product Selector to find and purchase configured products online. If you cannot find the answer you're looking for in the list below, you can also check the support section of our site for product FAQs and answers, or you can contact us for additional assistance.
Q: I have a motor series number (or part number), how can I search for more information?

A. If you already have the motor series number or SKU, we recommend using the site search box to find more information (located at the top of the page). If you are looking for a type of motor or a perhaps you are seeking more information about a particular topic or application device, you can input search keywords in the search box to find filtered results.
If you know what type of motor you need, but do not know the specific motor number or SKU, we recommend using the Product Selector (also referred to on our site as the "shop"). In the Product Selector you can filter and sort products based on broad and narrow specifications, dimensions, performance capabilities, and more.
Q: What makes the Product Selector unique?
A: Our Product Selector is a powerful and interactive parametric search tool and online store which is capable of analyzing user inputs and providing up to a thousand motion system solutions within seconds. Users can sort and optimize results, compare performance and purchase from over 400,000 products in our online store. Featuring real-time simulations of performance and temperature rise for FAULHABER coreless brush and brushless DC motors, the Product Selector gives users the ability to compare the performance of different motion component technologies and complete solutions based on specified constraints and operating points, while exploring the widest range of motion system solutions on the market today. The system provides highly accurate performance results for brush and brushless motors using a proprietary four parameter thermal model.
This impressive search tool allows users to choose from a wide array of rotary and linear motion options, including coreless brush DC motors, brushless DC (BLDC) motors, stepper motors, and piezo motors. Users can augment the system with a variety of gearheads and encoders. Another critical aspect is the ability to view the results in a sophisticated product comparison chart that displays systems-level performance characteristics.
Primary performance selection points include speed (min/max), required torque (min), applied voltage, diameter, length, and encoder resolution. The comparative performance and technology scope points displayed in the compare products/results tables include: Diameter, Length, Gearhead ratio, Encoder resolution, Speed at required torque, Current at required torque, Maximum continuous torque, Delivery lead time, and Price.
Q: Can I compare more than one product at a time?
A. Yes, select the "Compare Result" checkbox at the far left-hand side of the page.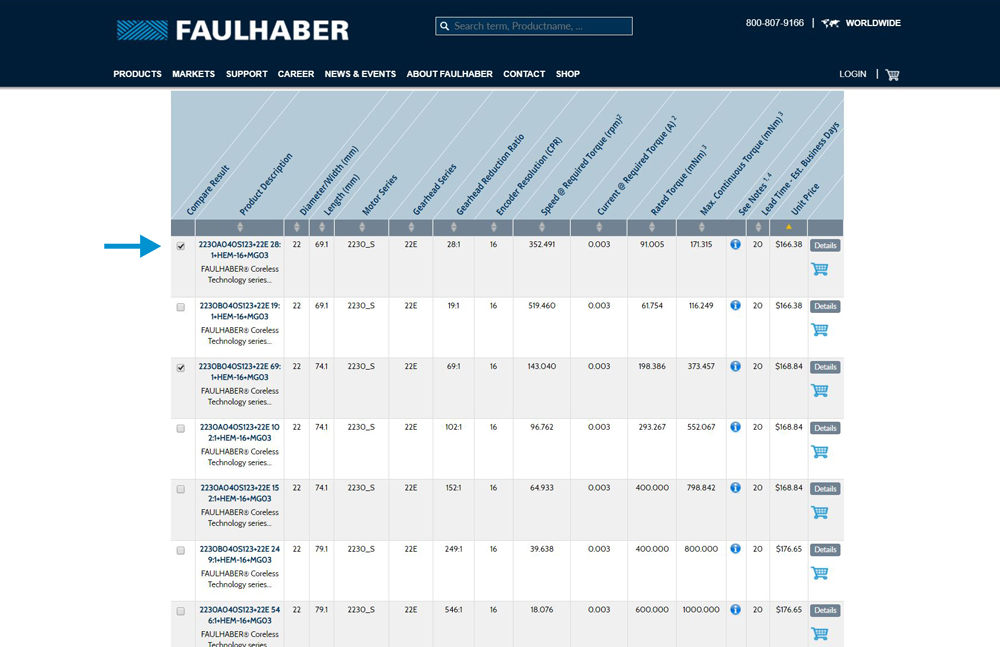 This will add the item(s) to the compare results section at the bottom of your browser window.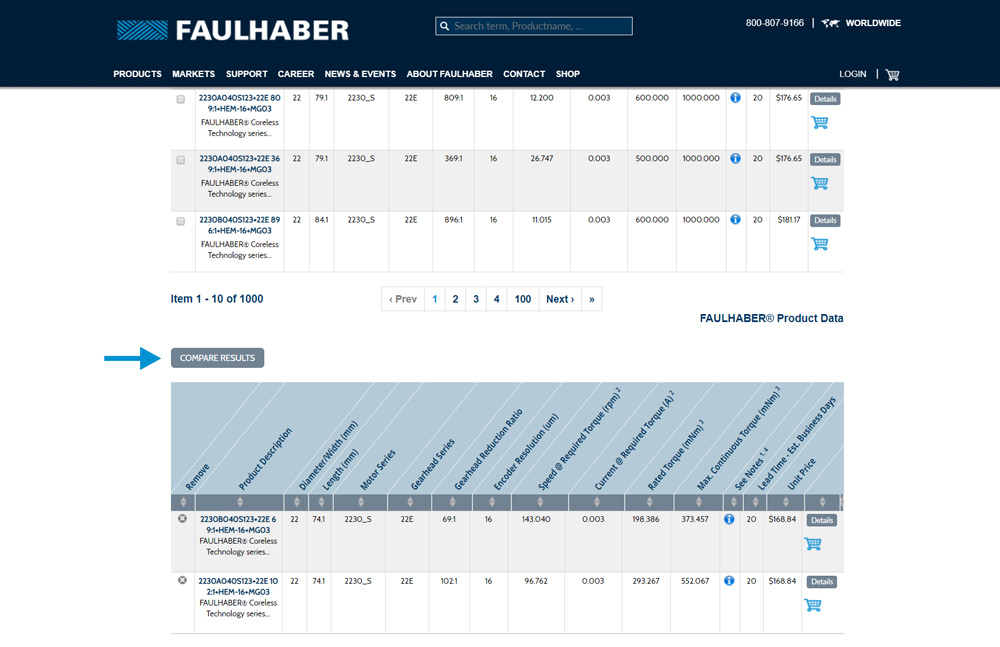 Q: What if I need to order more than 50 units?
A: If you need to order more than 50 pieces, please contact a member of the FAULHABER team, either by phone: 1-800-807-9166, by completing the Contact form, or via our live chat system (at the bottom right hand corner of our site).
Q: What is your shortest lead time? How can I search for products with the shortest lead times?
A: Most of the products sold online ship from Clearwater, FL in three days or less. To filter your search to display configured products that ship in three days or less, select the "Stock Program Products" checkbox at the top of the Product Selector page.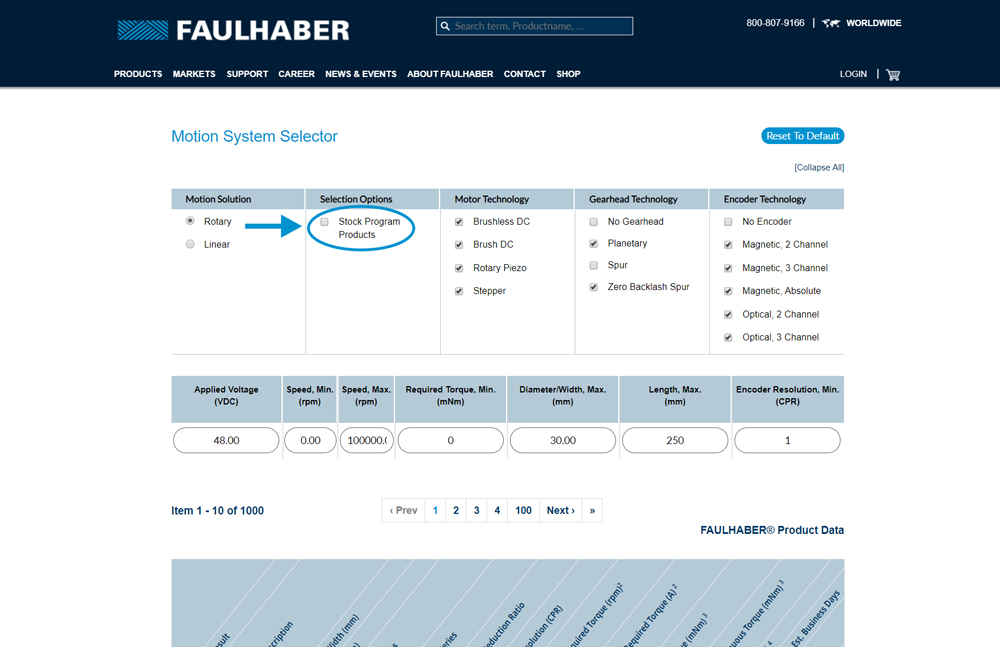 For all other questions, please check the "support" page of our website, or contact a member of our team.